A COLIVING THAT TAKES CARE OF YOU
ESCALANTE · BERRIA · CANTABRIA
It is the home of the tide watchers, a tribute to the guardians of the ecosystem, to bird lovers and to those who care for the planet. A space that stimulates creativity and art as a language for transmitting values.

To the Cantabrian tide mills.
A UNIQUE XVI CENTURY MANSION DESIGNED FOR LIVING AND WORKING,
ADAPTED TO CONTEMPORARY NEEDS.
A HOUSE THAT CARES FOR YOU: good for you, good for the environment.
This XVI century mansion has been carefully rehabilitated with sustainability awareness providing it with all contemporary needs including wellness measures. The house has 600 built meters and 735 m2 of plot.  These WELL measures are considered by the GLOBAL WELLNESS INSTITUTE as attributes that increase the comfort and well-being of its occupants making the environment healthier. Here are some examples:
Natural ecological photocatalytic paints based on silicates, which allow stone walls to breathe and help prevent dampness (three 15-litre cans of this paint absorb more than 10 kg of CO2, the same amount as an adult tree per year).
Exercise bike to promote physical exercise.  
Coworking with ergonomic furniture designed by the Spanish firm ACTIU, national design award winner and WELL certified.. 
Filters for water treatment, avoiding limescale, chlorine and heavy minerals, incorporating ionisers that regulate the pH, combat oxidation, hydrate and alkalise the body.
All products used for cleaning the house are natural and environmentally friendly. For disinfection we use water with ph 2.5, which can be obtained from our ioniser. This machine has different pH levels and can, for example, wash fruits and vegetables with pH 8 and remove pesticides or drink alkaline water with pH 8.5 and 9.0.
The project incorporates biophilia, which means «love of life and living things». a term coined by biologist Edward Osborne Wilson in his book Biophilia, which won him two Pulitzer prizes. It argues that contact with nature is essential for human psychological development. This vital desire for contact with nature is as important as establishing relationships with other people. The house includes a garden divided into two connected plots with its own vegetable garden ideal for seasonal self-consumption, promoting a more ecological, sustainable and healthy local nutrition.
Internet system combined with SIGNIFY LIFI for the coworking area, an alternative technology not based on electromagnetic waves, 100 times faster than wifi connection, healthier, safer and more ecological.
Our coliving is the first home to incorporate this pioneering technology, which reduces exposure to radio frequencies without sacrificing download speed while ensuring the well-being and health of those present by eliminating radio frequency in the connection.
In this project we try to minimise the impact of electromagnetic waves to favour rest and sleep quality. We want to encourage a conscious use of the spaces and for this reason we combine LiFi for the work area, WiFi for common areas and high-speed internet connection at 1000 megabytes if you want to have a fast connection in the rooms. This way we avoid using multiple repeaters, as this 16th century house has thick stone walls.

7 double suites with bathroom (one is a triple)


Equipped with linen and kitchenware

Lift available to first floor

The best connections for working remotely

Coworking for up to 8 people with LiFi technology

Adapted double room with bathroom

Private outdoor parking for 3/4 cars
2 connected gardens and an orchard

One kitchen with induction hob and another with gas hob

Laundry with 2 washing machines + 1 tumble dryer

3 Living rooms with fireplace, 2 of them with TV and 2 dining rooms.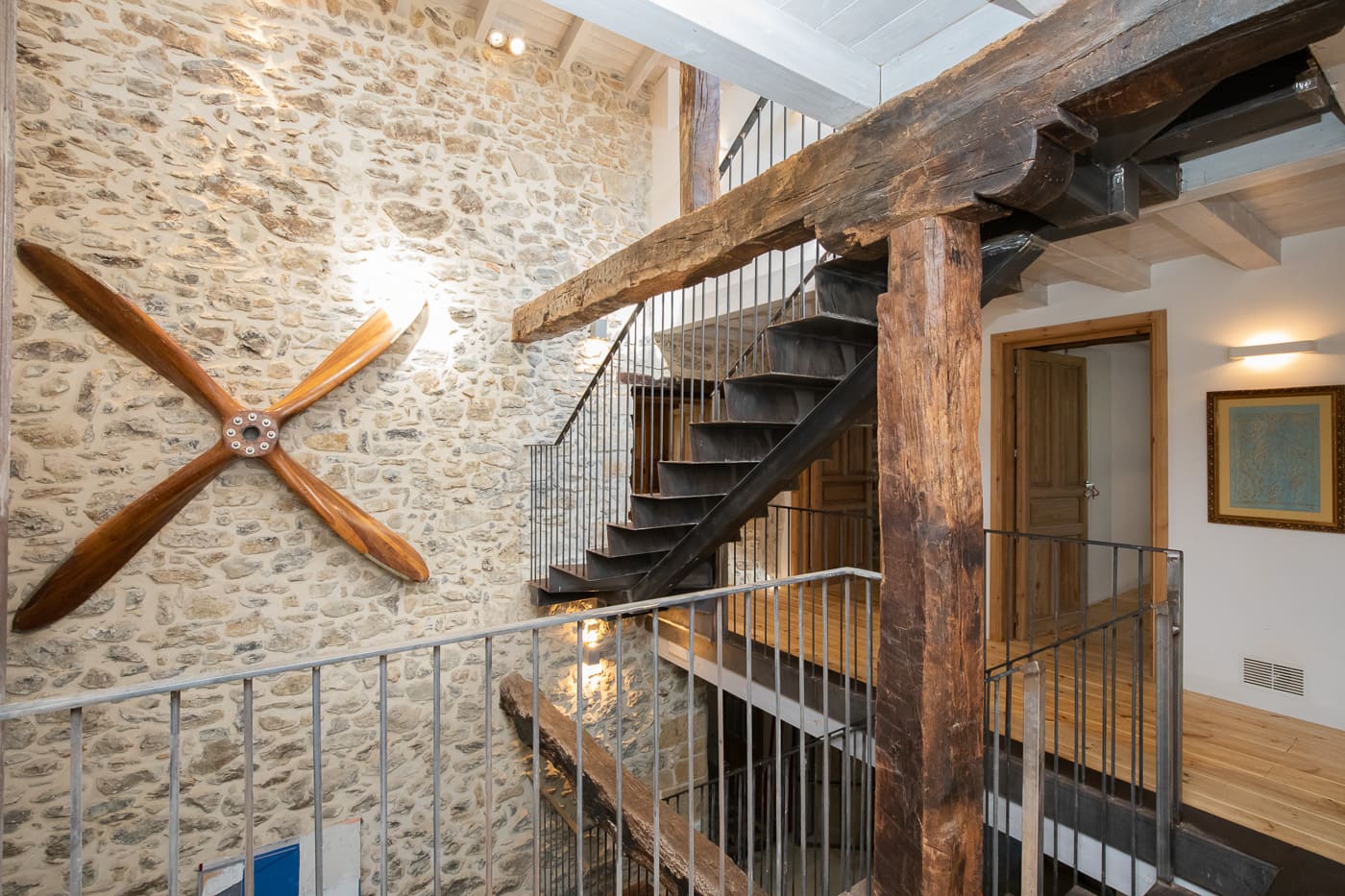 RESPECTFUL REHABILITATION 
The house dates from the XVI century. It was the residence of the Lamadrid family, whose coat of arms can be seen on the façade. It is a typical Cantabrian mountain house with a façade listed as an Heritage of Cultural Interest in Spain. Its integral rehabilitation process has lasted about two years. The house was very deteriorated but even so we have tried to recover as many of the original materials as possible. Contrasts have been emphasised, incorporating more modern finishes with natural materials that are even more different from the original elements: polished cement floors that blend in with the stone walls, modern light sheet metal staircases that fit into the gaps left by the century-old beams.
In the main hall it was possible to maintain the original hydraulic floor in its entirety, restoring other pieces found in the house that have been used to give personality to the bathrooms and to introduce some elements from the original house. Around 70% of the new materials incorporated have been recovered from demolition work. The wooden floor in one wing of the house is made of old pine, more than 100 years old, as are all the interior doors. Natural materials, elegance and respect for its original essence.
As this was a refurbishment of a protected house, preference was given to preserving the character of the house by leaving the interior exposed stone, to the detriment of implementing insulation that would make it more sustainable. All the windows in the house had to be made new and are made of wood, in accordance with the Spanish regulations for the protection of Cultural Heritage.
Team:
Architect: Patxi Eguiluz.
Developers and interior design: Penélope and Sylvia Girón.
Concept: The Sibarist Property & Homes.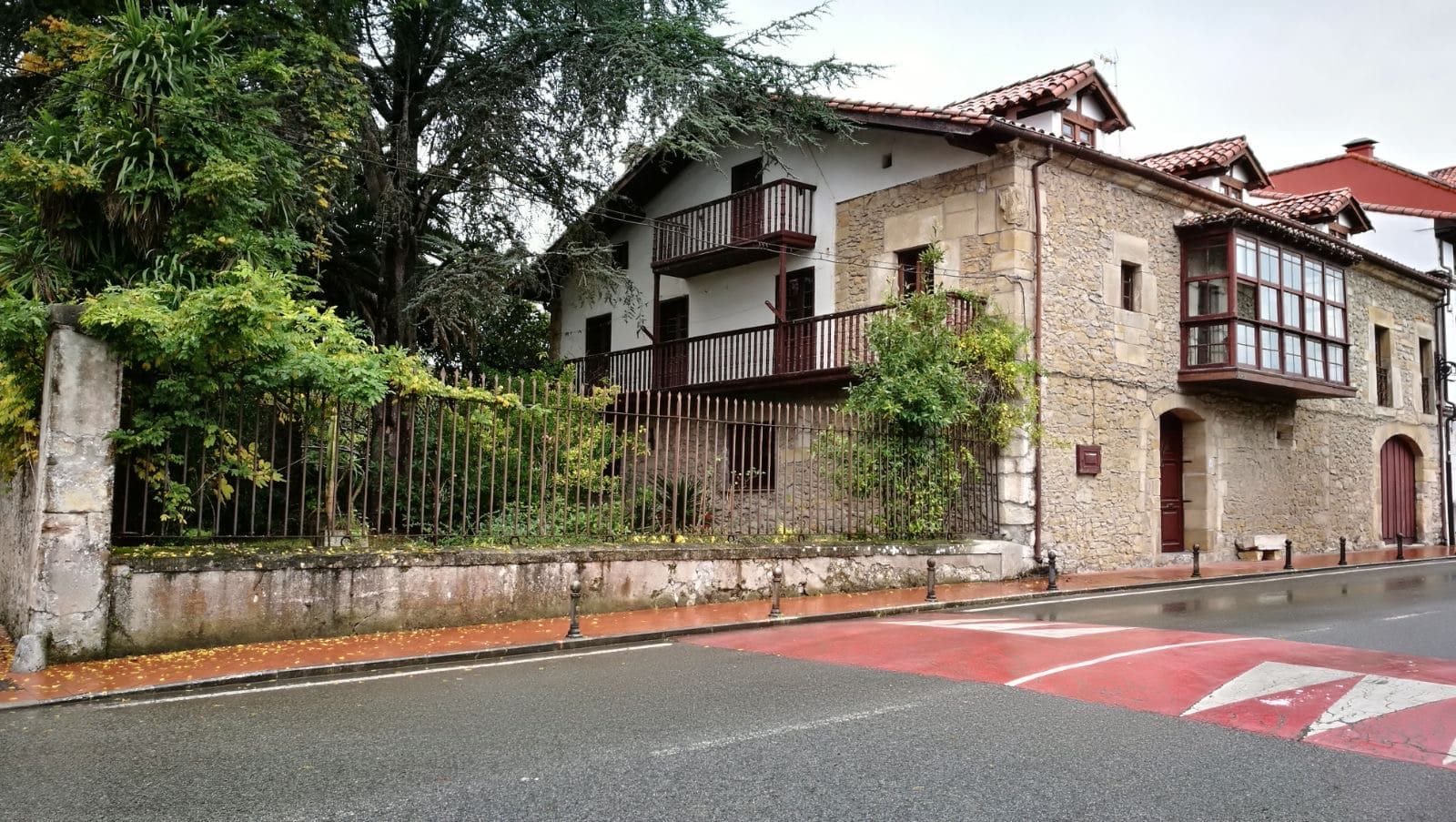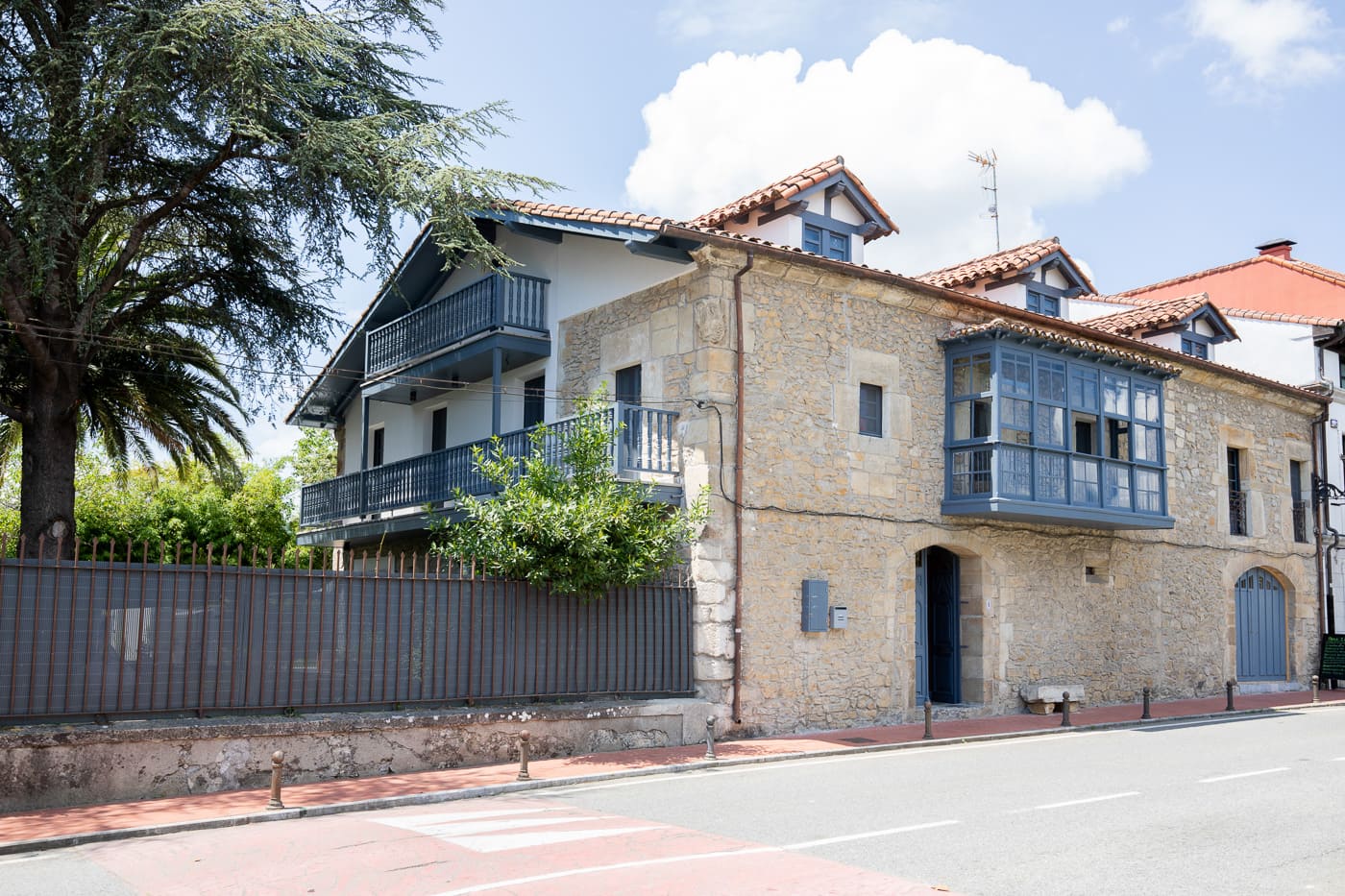 The interior design has been carried out by COVID19 in the middle of a state of alarm, so it has been an exercise in sustainability and creativity. We have tried to take advantage of all the materials and furniture from various family homes. The tables in both dining rooms have been made from old wooden floors that are hundreds of years old, and as seats, some old benches that were originally found in the house have been reused for one of them and restored, as well as a bullfighting poster from the Santander bullring of the 1950´s and some old cartwheels that appeared on the building site.
Most of the furniture is of family provenance from different periods, all combined with the use of fabrics, upholstery and natural fabrics such as cotton, linen, recovered jutes… combined with top quality equipment such as 100% Egyptian cotton sheets and towels and beds with the best hotel standards.
Art is a very important component of the life of the house. Works of art by emerging artists supported by The Sibarist from its ART U READY platform have been incorporated: we can find pieces by Sergio Femar, Remed, Carla Cascales, Marta Páramo, artist of the association DEBAJO DEL SOMBRERO, Misael del Rosario, Federico Takkenberg and Leonardo, the youngest artist in our country, which coexist with works by established artists such as José Guerrero. The result is an eclectic, original, cosy and very comfortable interior design, conscious of the current moment we live in, with a responsible conscience of consumption.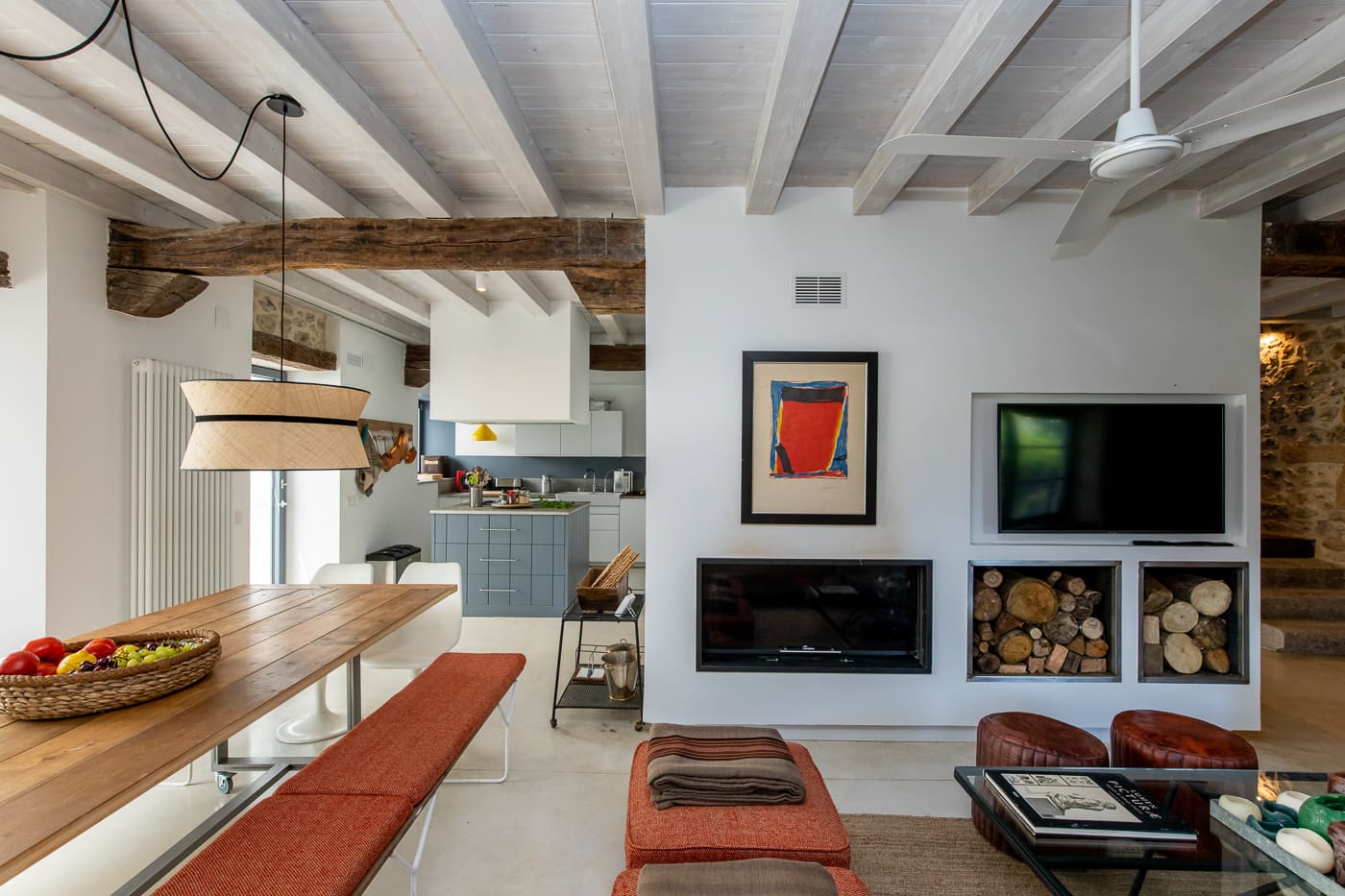 OPTION 1
4 ROOMS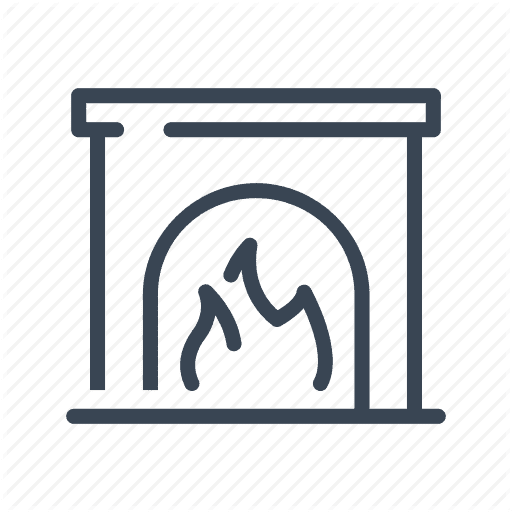 1 Living room with fireplace, TV. 1 dinning room



OPTION 2
7 ROOMS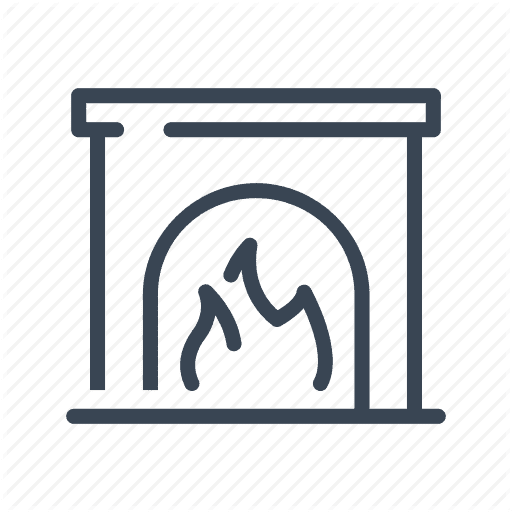 3 Living rooms with fireplaces (2 of them with TV) and 2 dinning room



nutritious and healthy breakfast
on request

garden with seasonal produce

daily cleaning
(weekly linen change)

water ioniser with different PH
in both kitchens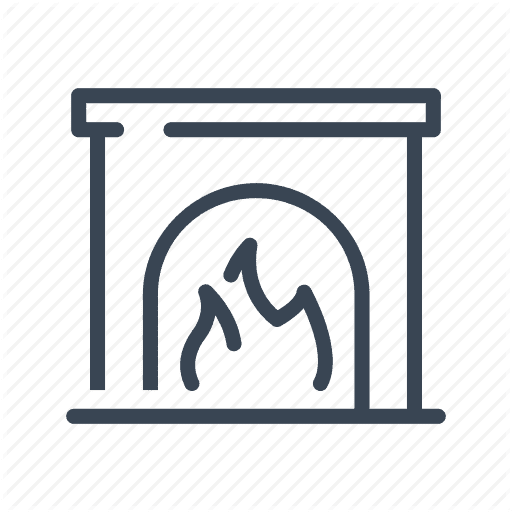 daily cleaning and lighting
of fireplaces

handmade organic lavender and rosemary soaps
created by The Sibarist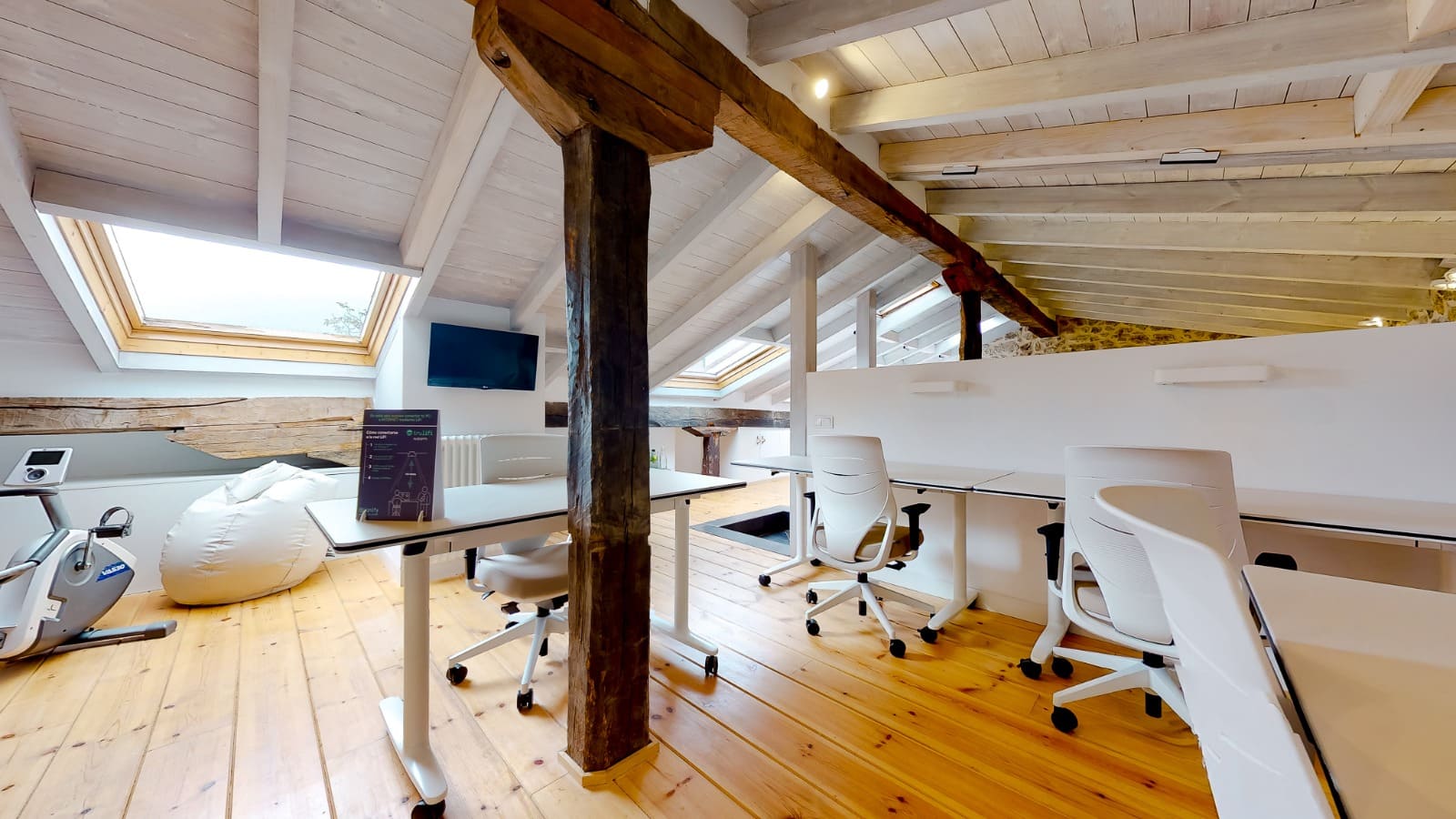 HIGH-PERFORMANCE CREATIVE RETREAT
HUMANTIFIC · SENSEMAKING FOR CHANGEMAKING
We are delighted to have Humantific as an exceptional PARTNER, one of the most prestigious consultancies in innovation, creativity and cultural changes for teams and companies. Humantific has been transforming organisations and collaborating with business and design schools around the world for over 20 years. They are based in New York and work on projects globally.
For COMPANIES we offer different programmes focused on developing innovation and creativity skills, as well as strategic and team building sessions.
For FAMILIES we have developed special programmes at reduced prices to help with the situation we are experiencing due to COVID19. These are focused on developing innovation and creativity skills in the family environment, exploring and empowering the talents of each individual as well as the whole family unit. These dynamics also help to improve family coexistence, and can be applied to family entrepreneurship, solving challenges, etc. For people over 14 years of age.
WELLNESS, SPORT AND NATURE
BIKE RIDES AROUND
THE SANTOÑA MARSHLANDS
Discover the Natural Park of Las Marismas de Santoña by bike. Let yourself get lost along its countless paths.
Enjoy surfing on the best beaches in Cantabria. We offer you lessons at the famous Berria beach, just 3 km away.
A yoga class to start the day or at sunset
– on the beach?
THE BEST LOCAL FOOD
AT HOME
We bring you the best local gastronomy at home. We will also recommend you our favourite restaurants.
GASTRONOMY 3 MICHELIN STARS
AT CENADOR DE AMOS
We take you to Cenador de Amós or if you prefer we bring it home. You choose.
TASTING AND ROUTE OF ANCHOVIES
IN SANTOÑA
Would you like to discover the best anchovies in Santoña? Get ready for the most gastronomic route.
CREATIVITY AND ENTREPRENEURSHIP
MAKING ARTISAN CIDER IN AN ORIGINAL CIDER PRESS
We will get to know models of local entrepreneurship and learn the whole process of artisan production. 
ART WORKSHOP WITH
ART U READY ARTISTS
Art workshops and talks with inspiring artists from our ART U READY platform. 
GUIDED TOUR TO CENTRO BOTÍN
SANTANDER
Its aim is to foster social development through the potential of the arts to awaken creative capacity. 
Located in Escalante, also known as the «Santillana del Mar de Trasmiera», this small medieval village located in the eastern part of Cantabria captivates us with its mountain-style mansions. On the shores of the marshes of Santoña and catalogued as a natural park, it maintains its ecosystem intact, located just 3km from one of the best beaches in Cantabria, the kilometre-long beach of Berria, chosen by surf lovers as one of their favourites throughout the year, especially suitable for beginners.
The Natural Park of the Marshes of Santoña, Victoria and Joyel, with more than 4,000 hectares of exceptional ecological value, is considered one of the most biologically diverse enclaves in Spain, with more than 20,000 birds of 120 different species, small mammals and a unique flora. A good number of them come from Northern Europe and choose Santoña to spend a much milder winter than in their original countries. Spring and autumn are the migratory seasons, making this the ideal time to observe seabirds. Among other species, you will be able to see large and small loons, red-necked grebes, black-faced goose barnacles, common scoters, medium-sized serins and common razorbills. 
It is only 35 km from Santander, 6 km from Santoña, a lively town all year round, especially at weekends and in summer, and 65 km from Bilbao and its international airport.
Escalante is a discreet village that remains authentic, well known locally for its gastronomic appeal. Lovers of peacefulness and gastronomy will find their special paradise here, enjoying the famous anchovies from Santoña, sardine skewers, as well as other famous Cantabrian dishes, such as cocido montañés (Cantabrian stew).